Sprawdź nasz poradnik z pierwszymi krokami w Cyberpunku 2077, zanim przeczytasz ten artykuł.Minęło kilka dni od premiery Cyberpunka 2077, więc pewnie masz już za sobą rozróbę na mieście, bujanie się z Johnnym Silverhandem i nawet dodatkową furę lub dwie w garażu, aby stylowo wozić się po Night City.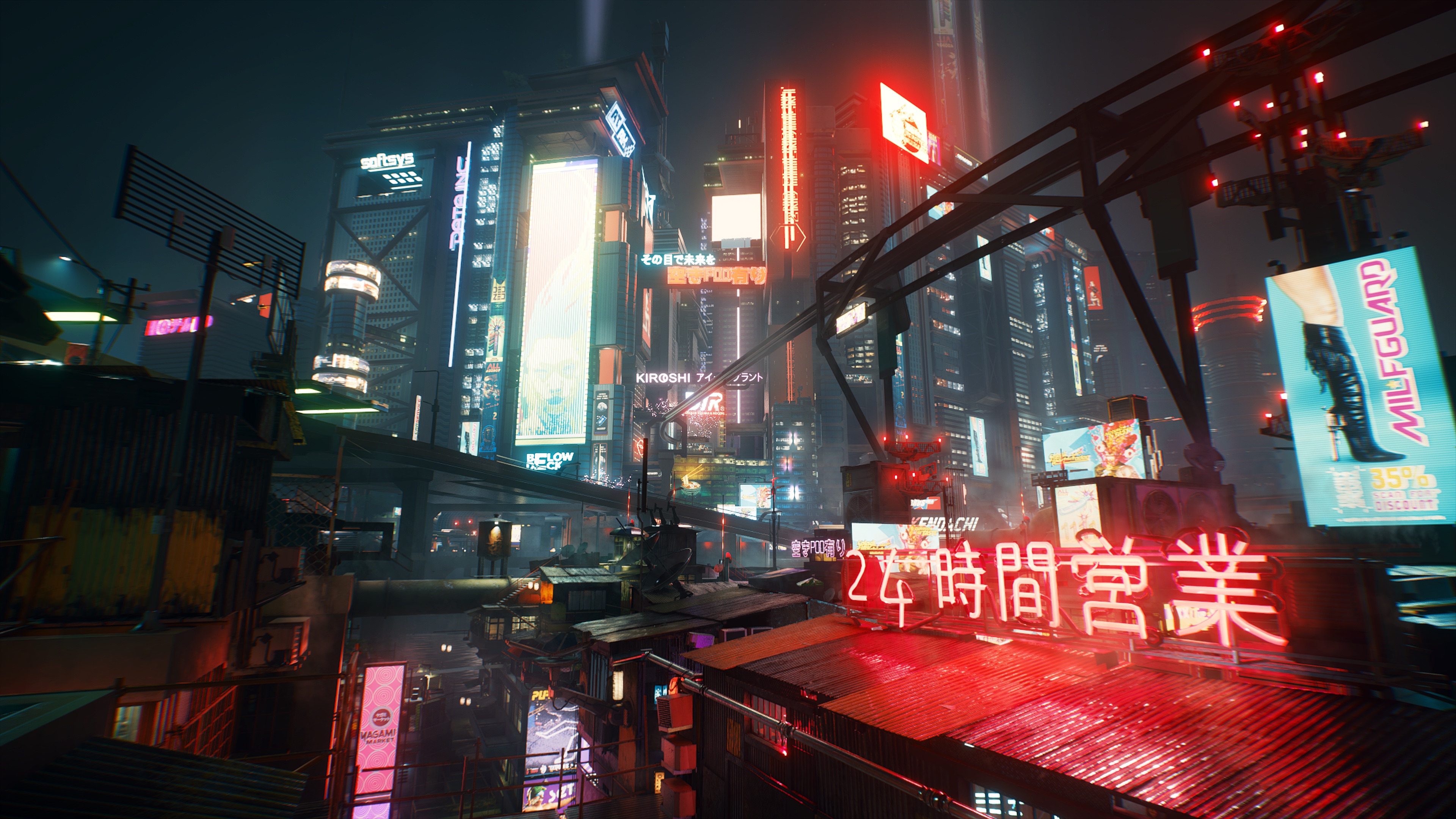 I choć może ci się wydawać, że wszystko masz już obcykane, niektóre części tego ogromnego RPG-a mogły ci umknąć, czy to świadomie, czy też przez to, że pochłonęły cię inne rzeczy. Ale nie martw się, bo zamierzamy przyjrzeć się bliżej niektórym aspektom Cyberpunka 2077, na które warto zwrócić uwagę, nawet jeśli jesteś już o krok bliżej do zostania legendą.
Spraw, aby twoje bronie dla ciebie pracowały
Strzelaniny zawsze są niebezpieczne – możesz być najtwardszą osobą na dzielni, ale jeden zbłąkany pocisk pośle cię do grobu. Jednak w Cyberpunku nie musisz wystawiać głowy zza osłon, by strzelać do wrogów.
Bronie w Night City dzielą się na trzy typy – Power, Tech i Smart.
Power to najpopularniejszy typ i w twoje ręce pewnie wpadło już kilka egzemplarzy tego typu. Ale nie zapominaj, że są one przydatne nie tylko do celowania i strzelania. Ich naboje mogą rykoszetować od ścian i powierzchni, co jest użyteczne, gdy jakiś gbur nie chce wychylić się zza osłony.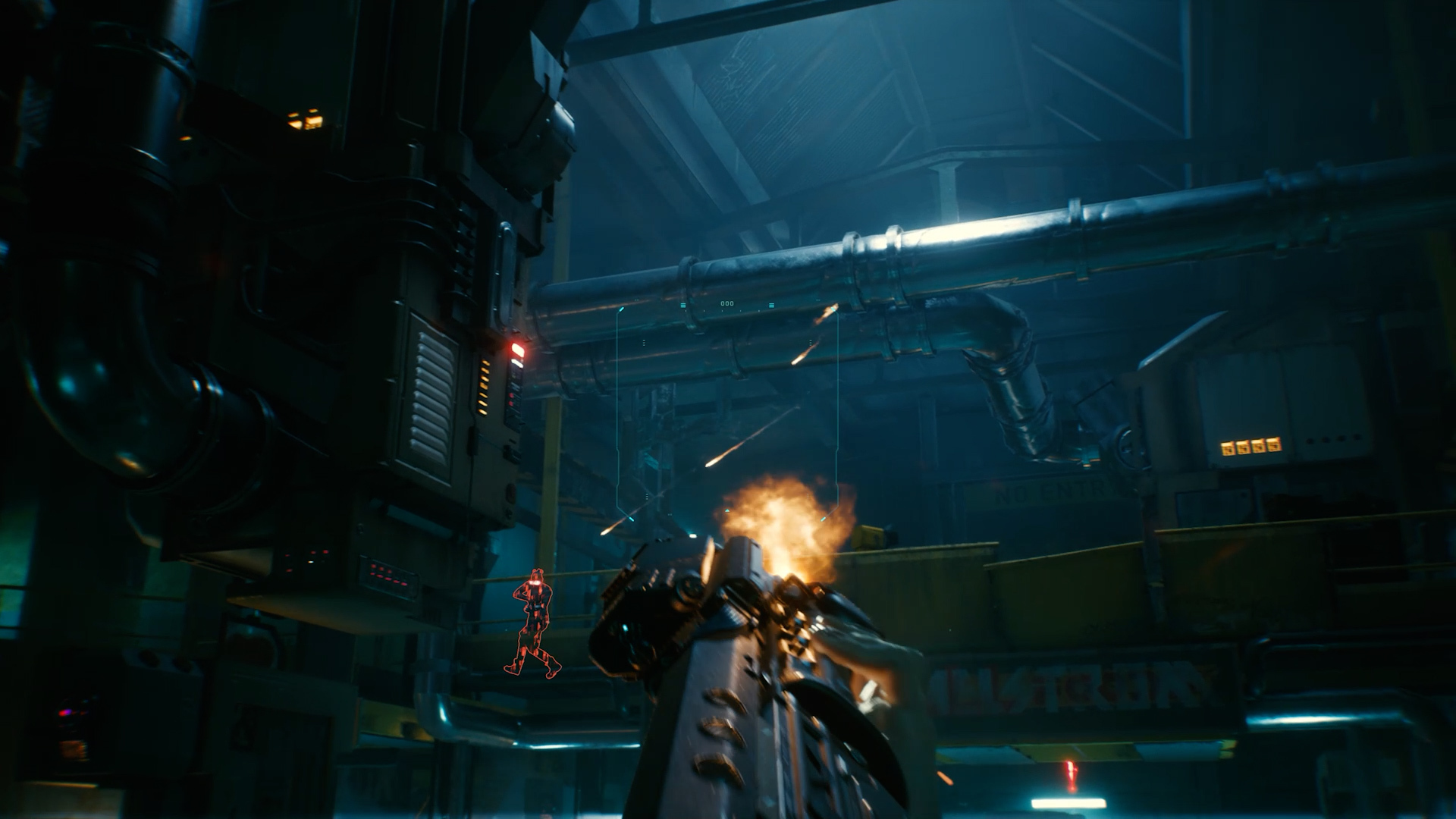 Bronie Tech równie dobrze radzą sobie z osłonami, po prostu się przez nie przebijając. Broń typu Tech możesz naładować, przytrzymując przycisk odpowiedzialny za strzelanie przez jedną lub dwie sekundy. Po naładowaniu broń wystrzeli automatycznie i przebije się przez wszystko na swojej drodze. Bronie Smart są jeszcze wygodniejsze, bo automatycznie skupiają się na wrogach, więc praktycznie nie musisz celować. Aby działały, potrzebujesz jednak odpowiednich wszczepów – jeśli jeszcze nie masz tej misji za sobą, zmierz się z "The Gig", aby otrzymać darmowe ulepszenie, które odblokuje wspomniane umiejętności.
Nie zapominaj o wszczepach
Skoro już o tym mowa, to nie zapominaj o odwiedzaniu ripperdoca. O wszczepach łatwo zapomnieć, bo wymagają udania się do konkretnych ludzi, ale takie wycieczki są naprawdę wartościowe – mogą znacznie podnieść twoje statystyki.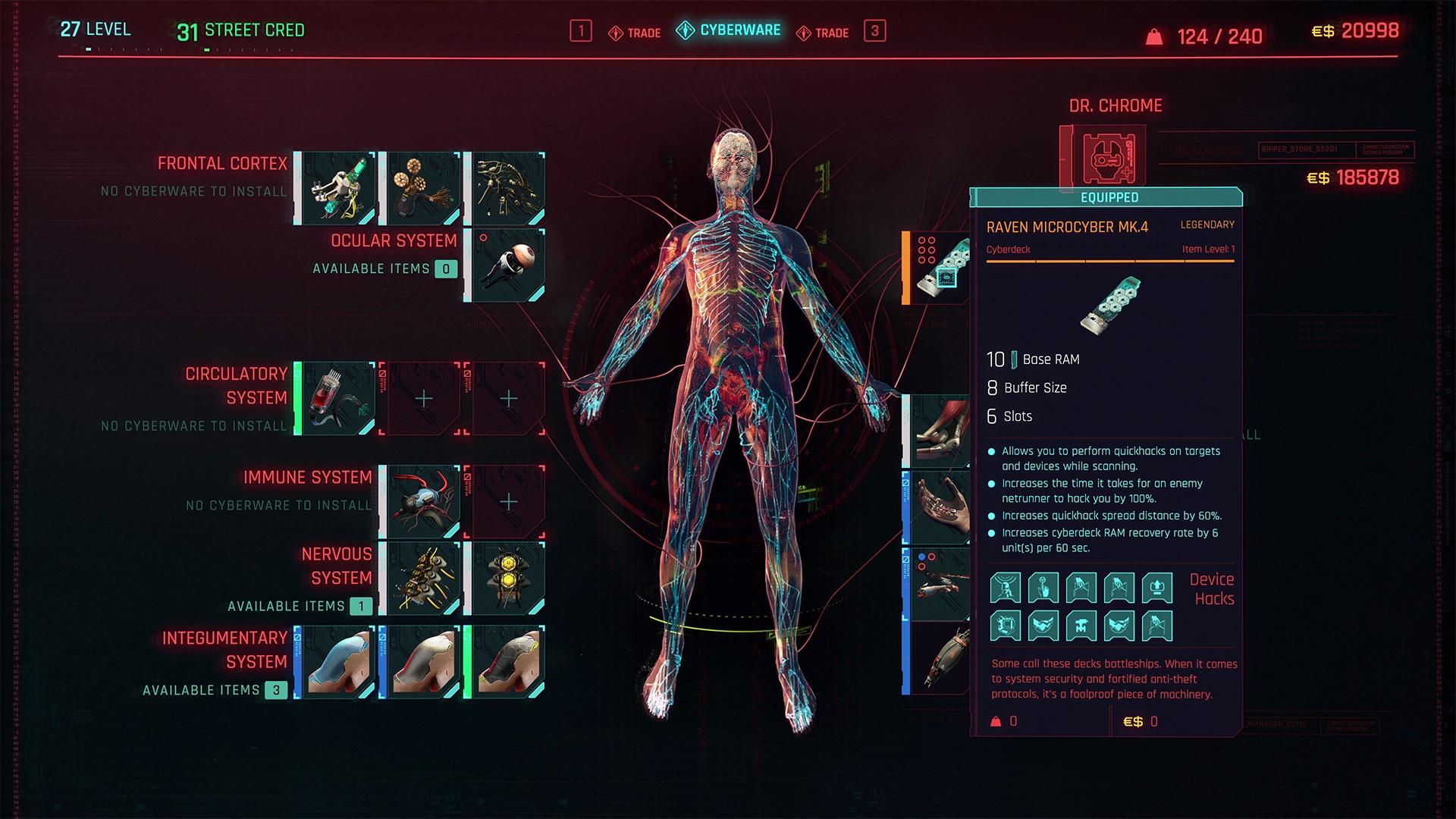 Pamiętaj jednak, że jeśli chcesz uzyskać dostęp do niektórych niezwykle przydatnych implantów, jak np. podwójnego skoku, musisz posiadać wysoki poziom reputacji na ulicy i spory zapas eurodolarów. Obie rzeczy możesz zdobywać, wykonując zadania poboczne, które piętrzą się w twoim dzienniku. Bierz się za nie!
Lepiej hakować niż leczyć
Nawet jeśli twoim preferowanym stylem gry jest wbijanie się do pomieszczeń i strzelanie do wszystkiego, co się rusza,
warto poświęcić chwilę na to, by przeskanować obszar i dowiedzieć się więcej, co czeka na ciebie w danym miejscu.
Gdy trafisz do nowej lokacji, pierwszą rzeczą na twojej liście powinno być złamanie protokołu celu, który można zhakować. Pozwala to na szybkie włamy z wykorzystaniem mniejszej ilości RAM-u, co daje ci więcej przestrzeni przed rozpoczęciem akcji.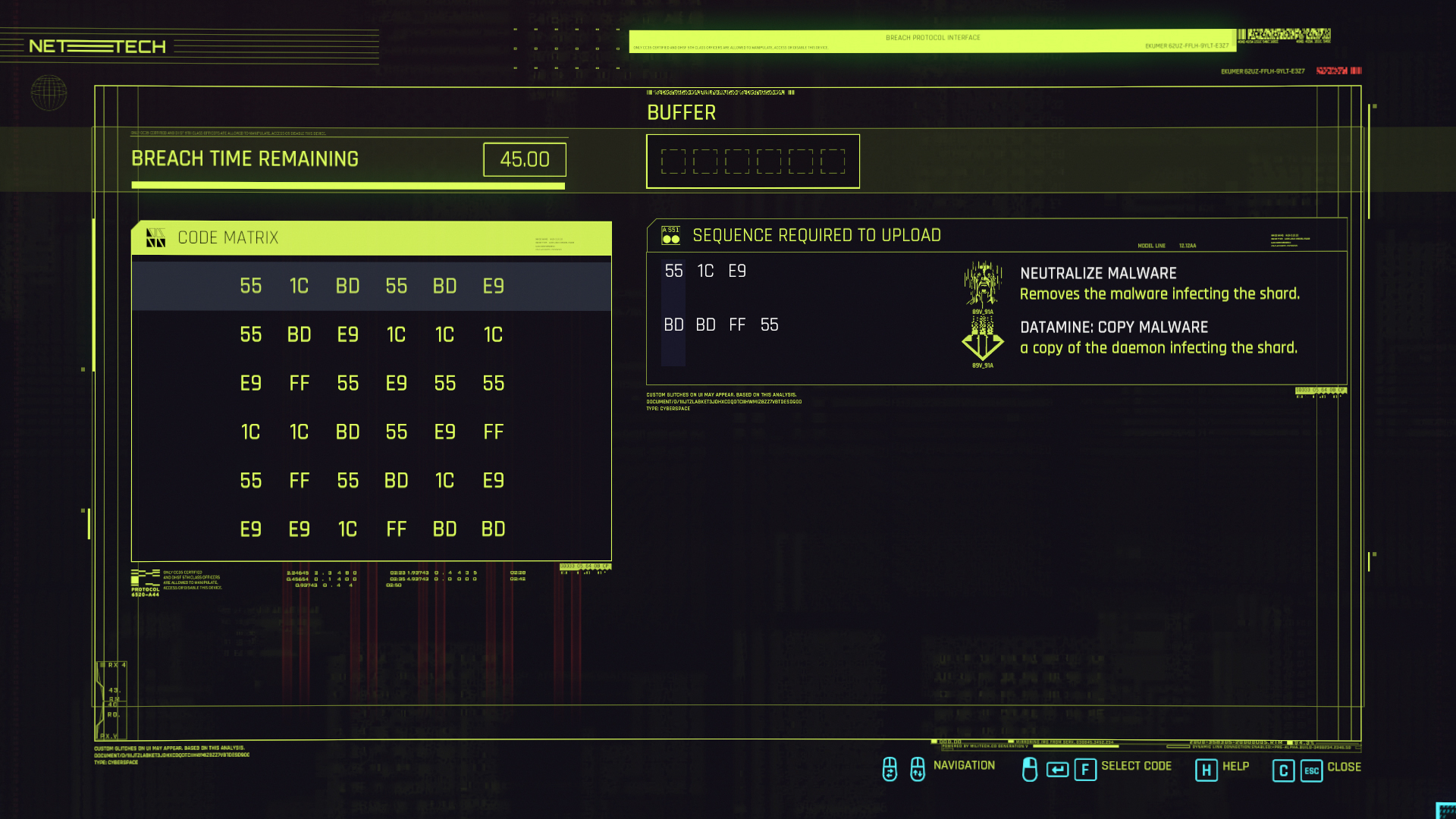 Musisz pamiętać, że choć łamanie protokołu ma limit czasowy, to odliczanie nie rozpocznie się, dopóki nie zrobisz pierwszego ruchu. Zaplanuj swoją ścieżkę do każdego węzła, zanim zaczniesz, a zakończysz hakowanie ze sporym zapasem czasu.Gdy ta operacja będzie już za tobą, uruchom pingowanie na przeciwniku. Podświetli to wszystkie pozostałe osoby podłączone do tej samej sieci, zdradzając ci ich pozycje. Teraz możesz oznaczyć każdego wroga (jeśli znajduje się on wystarczająco blisko), dzięki czemu upewnisz się, że nikt niespodziewanie cię nie zajdzie z boku, gdy rozpęta się już strzelanina.
Oddaj się rzemiosłu
W Night City możesz kupić właściwie wszystko, czego potrzebujesz, ale jeśli nie masz za wiele pieniędzy, albo po prostu cechuje cię oszczędność,
o wiele lepsze może być stworzenie i ulepszenie swojego własnego ekwipunku.
Tworzenie wymaga projektów oraz materiałów, ale wcale nie tak trudno je znaleźć. Projekty możesz kupić lub znaleźć w okolicy, a kilka z nich można nawet zdobyć, inwestując w konkretne atuty z drzewka umiejętności wytwarzania. Materiały można zebrać w różnych miejscach w świecie gry, odzyskać rozbierając broń lub, jeśli naprawdę brakuje ci części, kupić w sklepie ze złomem.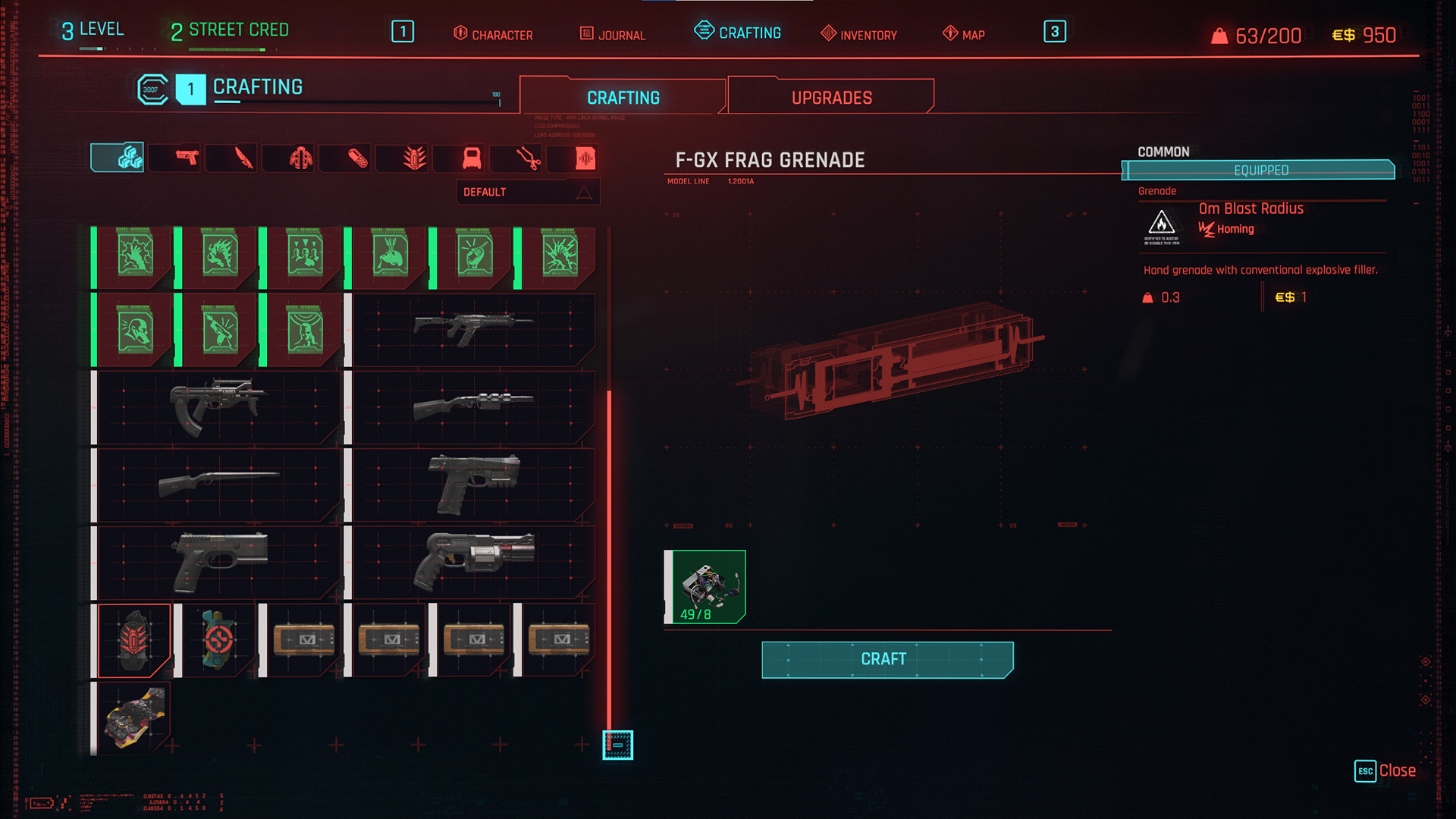 Wytwarzane przez ciebie przedmioty oraz ulepszenia będą stawać się coraz mocniejsze wraz ze wzrostem twoich umiejętności wytwarzania. Warto więc stworzyć na początek kilka małych przedmiotów, by zwiększyć swoje doświadczenie w wytwarzaniu. Spróbuj zebrać dużo powszechnych komponentów i wytworzyć tyle granatów odłamkowych F-GX, ile zdołasz, by zwiększyć swój poziom przed wzięciem się za większe ulepszenia – naprawdę będzie to warte zachodu.
Pozwól, aby przemawiały twoje pięści
Do rozprawiania się z szumowinami z Night City masz do dyspozycji wiele różnych broni, ale
czasami warto zachować przy życiu kluczowe cele – zaowocuje to lepszymi nagrodami i trochę łatwiejszym życiem
. A jeśli nie masz akurat przy sobie niezabójczej modyfikacji broni, czas skorzystać ze swoich własnych rąk. Walka na pięści w Cyberpunku 2077 jest zaskakująco efektywnym sposobem na rozprawienie się z uzbrojonymi drabami, bo mają bardzo mało czasu, by wycelować, zanim wyprowadzisz kolejny cios – ale oczywiście musisz unikać ich ognia, gdy próbujesz zbliżyć się na tyle, by móc zaatakować wręcz. Pamiętaj też o pasku wytrzymałości, bo gdy go wyzerujesz, twoja postać będzie podatna na wszelkiego rodzaju ataki.Jeśli natomiast ktoś będzie wymachiwać łapami w twoją stronę, musisz wiedzieć, jak wyprowadzić kontratak. Obserwuj przeciwnika i na chwilę przed tym, jak jego atak ma cię trafić, przejdź do postawy bloku. Dzięki temu zablokujesz zupełnie uderzenie, zadasz obrażenia własnym ciosem, a jednocześnie będziesz mieć dłuższy moment na kontratak, co sprawi, że cała walka będzie o wiele łatwiejsza.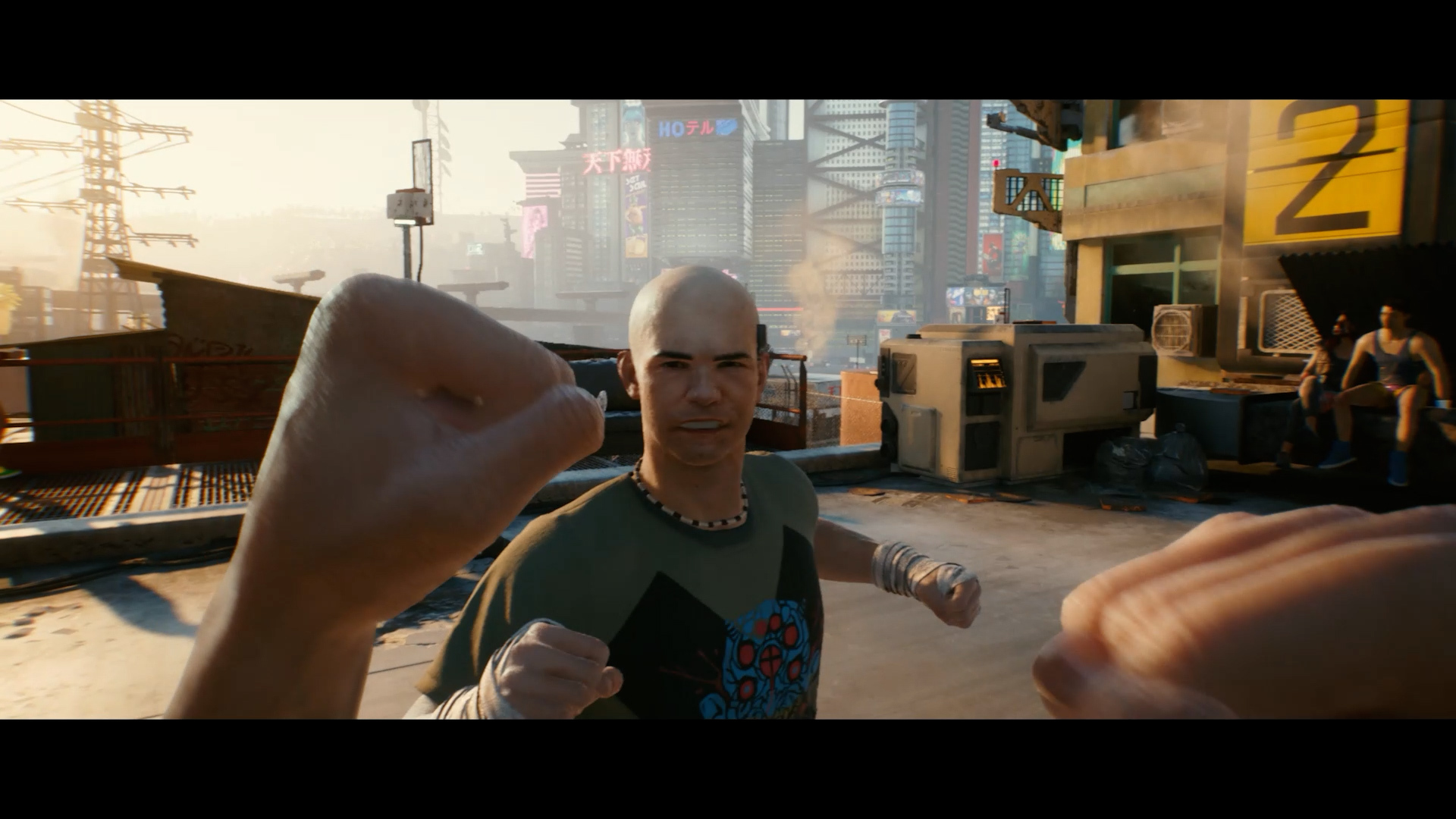 W Cyberpunku 2077 jest tyle do zrobienia i zobaczenia, że nie bylibyśmy w stanie wszystkiego tu opisać, ale mamy nadzieję, że te wskazówki będą inspiracją do tego, jak podejść do kolejnego dużego wyzwania czekającego na ciebie w Night City. Bierz ich, samuraju!