Obudź się, Samuraju. Osiem lat po pierwszej zapowiedzi Cyberpunk 2077 wreszcie jest dostępny, a klucze do Night City leżą w twoich rękach. Czas ukraść trochę sprzętu, spotkać się z kilkoma ziomkami i odpalić braindansa lub dwa – nie będziemy cię oceniać.
Ale jeśli chcesz się upewnić, że nie skończysz z kulką w głowie pierwszego dnia, mamy trochę początkowych porad, które pomogą ci się urządzić w Night City i zostać legendą. Dajesz, dzieciaku, mamy miasto do spalenia.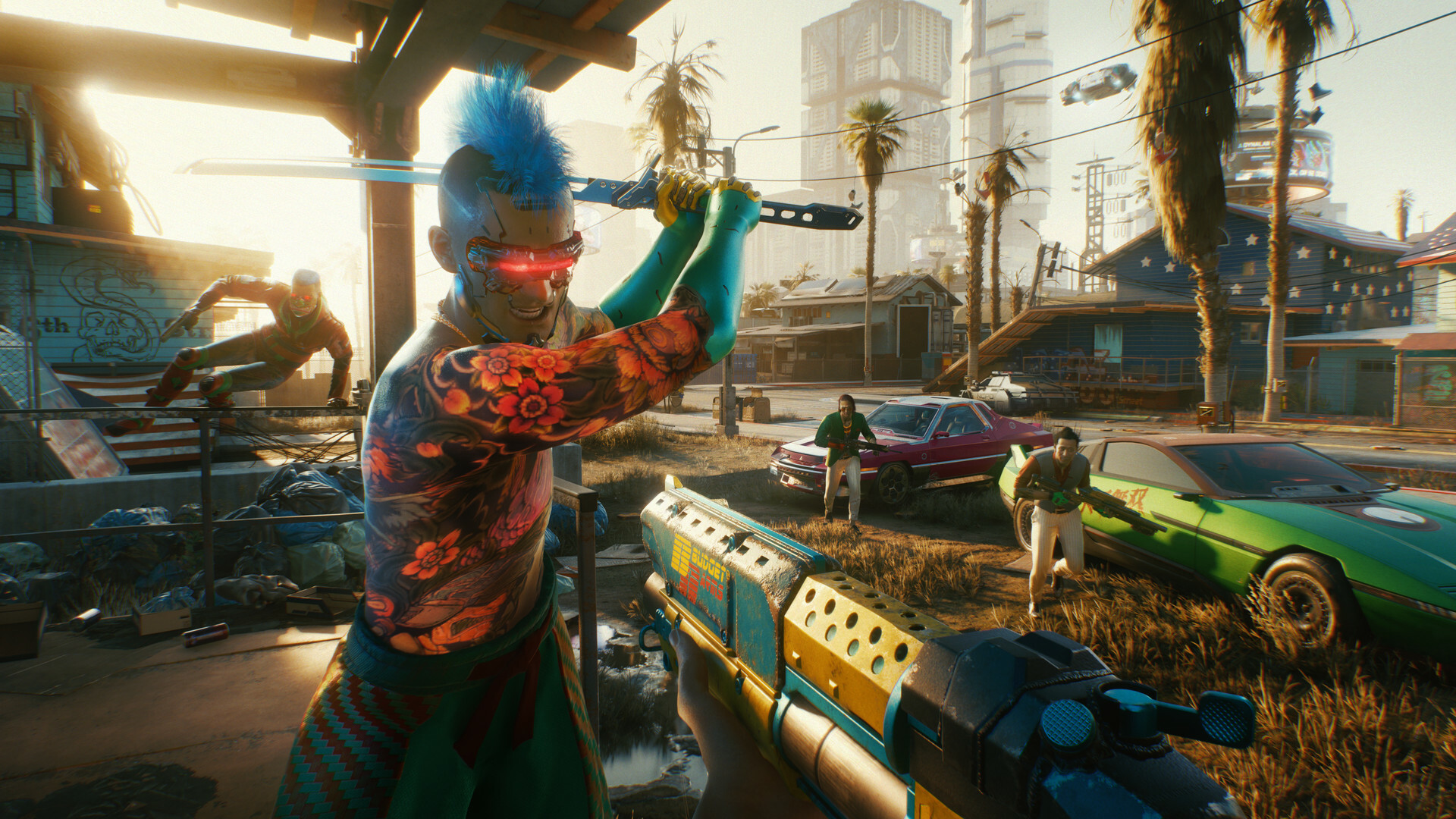 Wybierz swoją przeszłość, odmień swoją przyszłość
Nie będziemy ci mówić, jak dostosować postać lub jak inwestować punkty atrybutów – to twój wybór. Ale polecamy wypróbować wszystkie trzy ścieżki życiowe przed zanurzeniem się w fabułę.Tworząc swoją postać, możesz wybrać ścieżkę życiową Nomady, Punka i Korpa. Każda z nich zapewni ci nowe możliwości poprzez indywidualne opcje dialogowe i inną perspektywę udziału w misjach.Dla przykładu, na początku gry otrzymasz zadanie zdobycia pewnej technologii od gangu Maelstrom, który ukradł sprzęt od Militechu. Jeśli grasz jako Korp, wiesz, jak działa Militech i możesz przekonać ich, aby pomogli ci odzyskać technologię bez potrzeby wywalczenia sobie drogi lub wykładania środków z własnej kieszeni.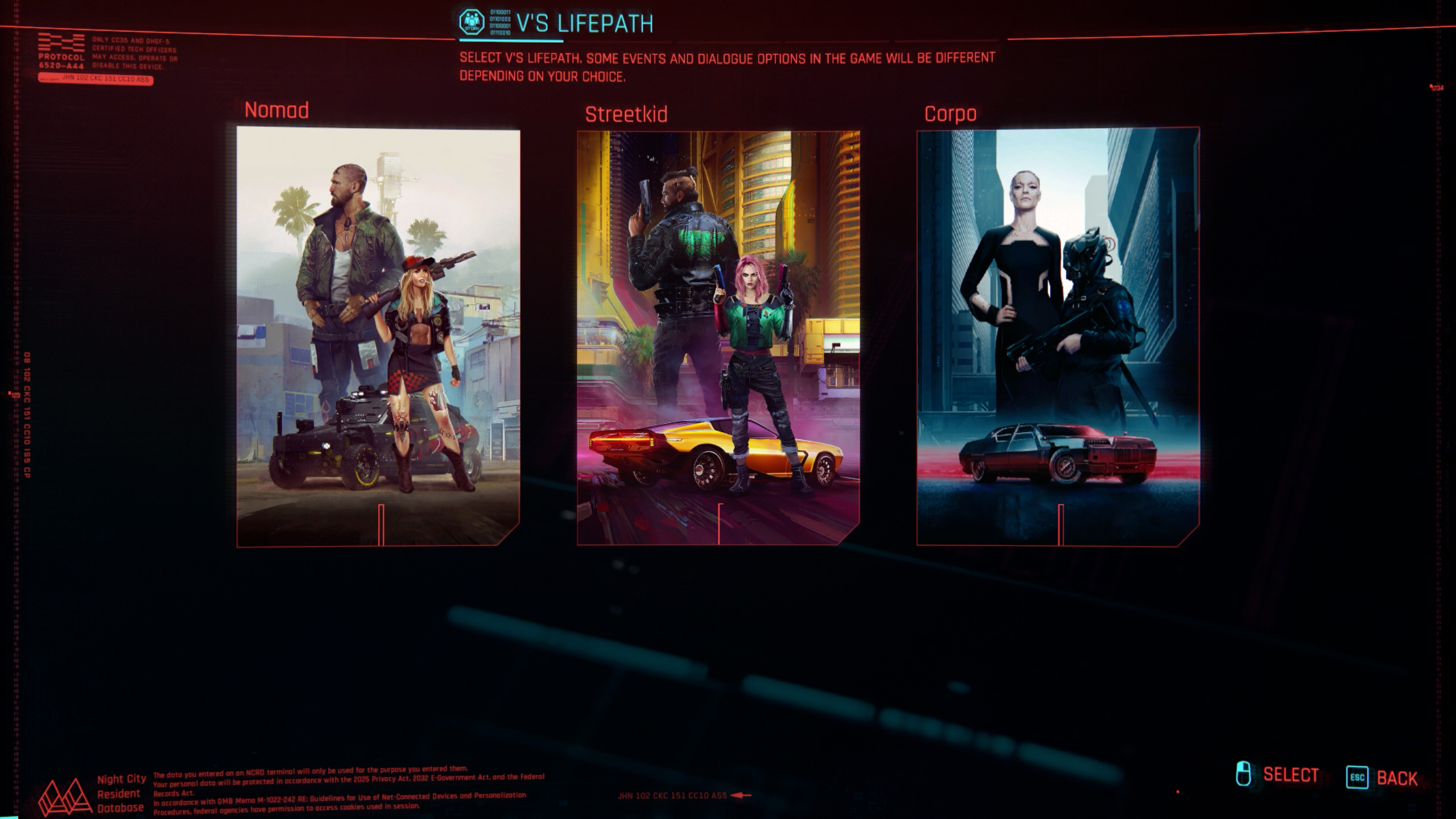 I choć nie chcemy zdradzać, co czeka cię dalej,
warto zagrać we wszystkie misje prologu, by sprawdzić różne ścieżki życiowe
i poczuć motywację postaci, poznać jej historię, zanim w pełni się w nią wcielimy.Misje te trwają około pół godziny każda i wszystkie prowadzą do głównej ścieżki fabularnej. Dadzą ci one także wgląd w motywację każdej z wersji V, dzięki czemu możesz poczuć prawdziwą więź ze swoją postacią i zrozumieć, co naprawdę nią kieruje.
Daj szansę każdej umiejętności
Może już wiesz, jaką postacią chcesz zostać w Night City – może jesteś skrytym hakerem, cwanym zabójcą lub po prostu brutalem, który uwielbia wszystkich bić. Ale prawdopodobnie nie chcesz stawiać wszystkiego na jedną kartę już na samym początku.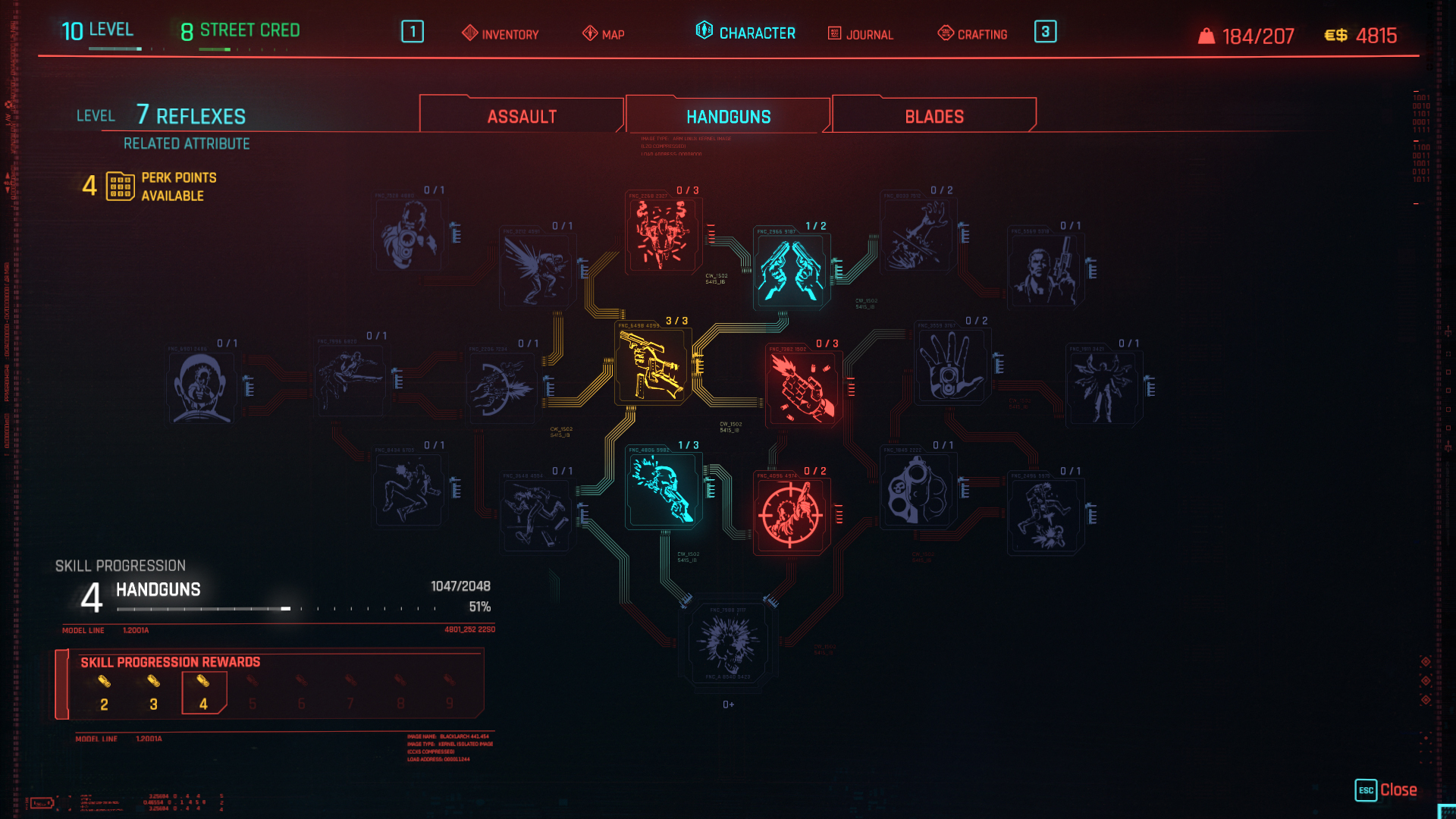 Wypróbuj kilka różnych stylów gry w pierwszych kilku godzinach
– eksperymentuj z perkami, pobaw się każdym typem broni, hakuj wszystko, co możliwe, a w jednym czy drugim przypadku spróbuj załatwić sprawę po cichu. Nie tylko pozwoli ci to zobaczyć w pełni, co ma do zaoferowania
Cyberpunk 2077
, ale przy okazji rozwiniesz też trochę umiejętności – zabójstwa z pistoletów podwyższą twój poziom obsługi broni, a z kolei ciche zabójstwa podwyższą twój poziom skradania. Zyskasz również trochę dodatkowych punktów profitów, które będzie można wykorzystać, gdy odblokujesz konkretny poziom umiejętności. Same plusy!
Skanuj wszystko i często odwiedzaj punkty odbioru
Na początku o kasę może być trudno. Ale w Night City pełno jest rzeczy, które ludzie chętnie od ciebie przejmą w zamian za stare, dobre eurodolary. Nawet jeśli nie jesteś najbardziej spostrzegawczą osobą, twoje ulepszone oczy mogą czynić cuda.
Przeskanuj każde pomieszczenie
, a zobaczysz nie tylko rzeczy, które możesz zhakować, ale również pozycje wrogów i przedmioty, które możesz zebrać po drodze.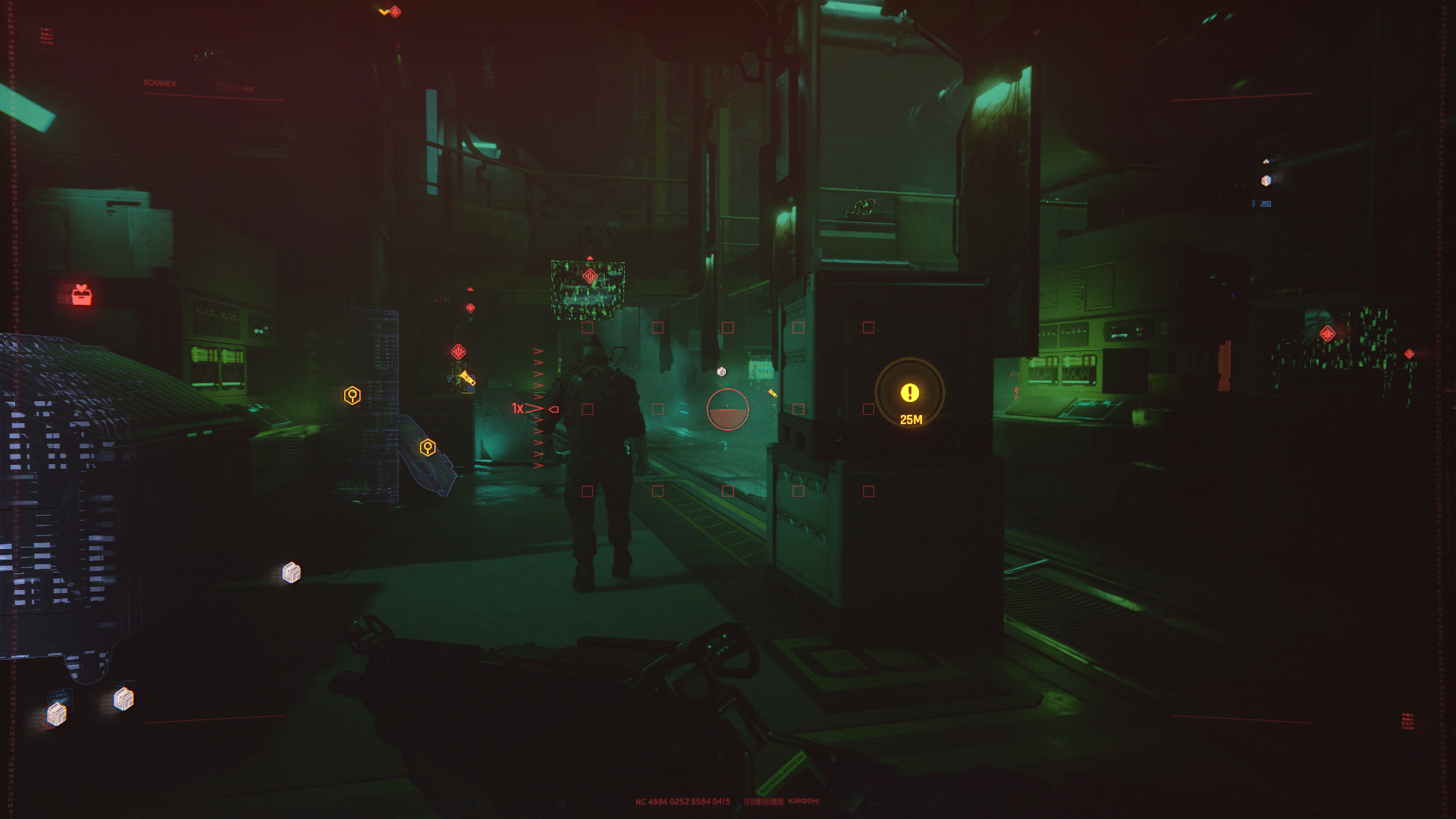 Może to być również użyteczne, gdy wszyscy w danym pomieszczeniu są martwi lub nieprzytomni – dowiesz się wtedy, które ciała nadal mają przy sobie łupy oraz czy przedmioty, które możesz zabrać, są warte miejsca w ekwipunku. Ale nie zapomnij sprzedać ich wszystkich w sklepie lub w punkcie odbioru – nie chcesz mieć problemów z poruszaniem się przez zebranie zbyt wielu paczek papierosów.
Sprawdź swoją skrytkę – i szafę
Gdy po raz pierwszy trafisz do swojego mieszkania na początku gry, twoim odruchem może być pójście do łóżka i odespania ciężkiego dnia. Ale nie przyzwyczajaj się, bo
w domu czeka na ciebie wiele ciekawych rzeczy
.Twoim najwyższym priorytetem powinna być twoja skrytka, w której możesz zostawić bronie, których jeszcze nie potrzebujesz, ale nie chcesz też ich sprzedawać. Dodatkowo jeśli grasz w
Cyberpunka 2077
i posiadasz kopię gry Wiedźmin lub Gwint na swoim koncie GOG, znajdziesz w niej kilka specjalnych przedmiotów, które dadzą ci wielce pożądaną premię do pancerza – a w dodatku wyglądają naprawdę stylowo.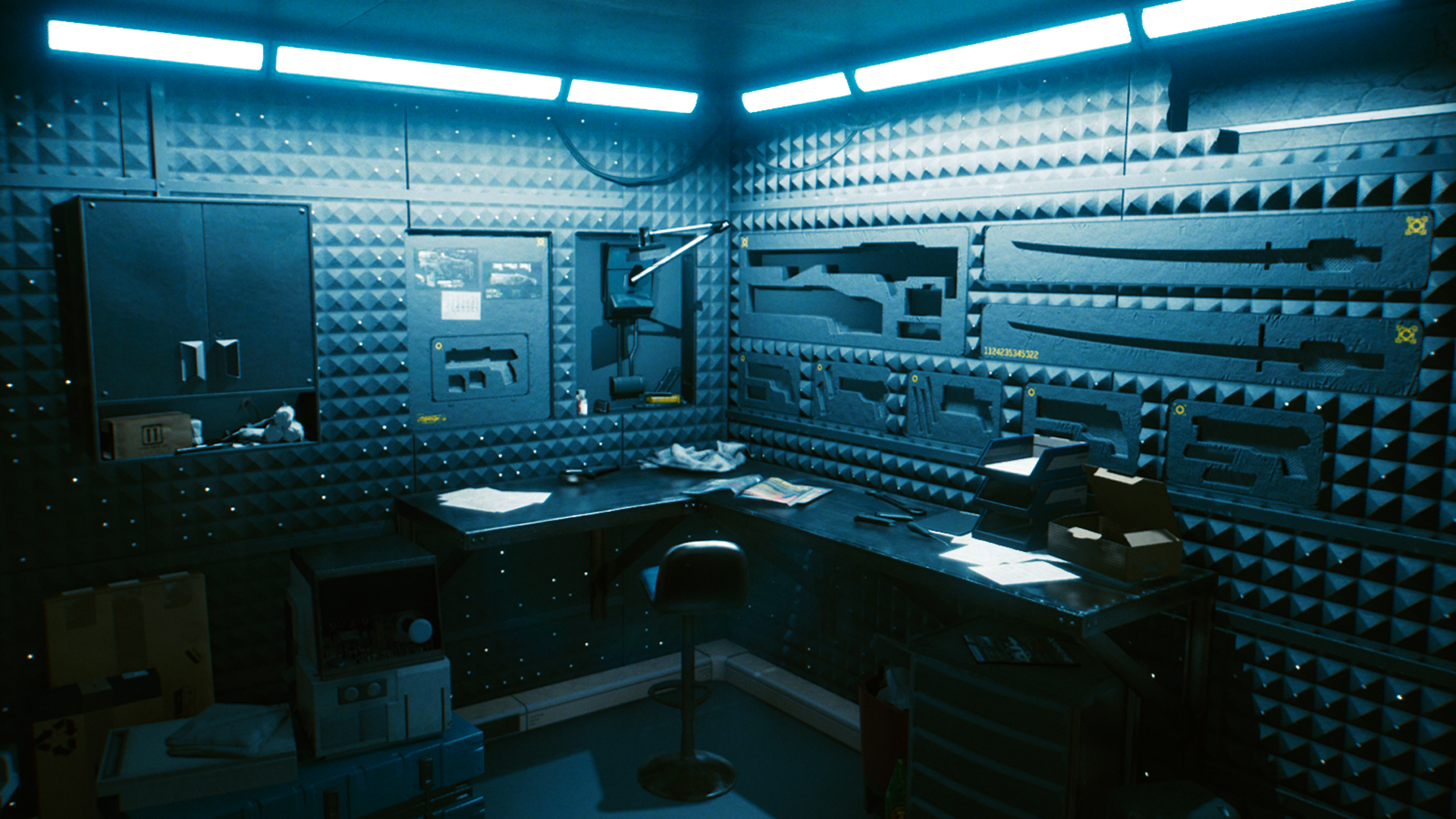 Ale pamiętaj też o szafie. Stoi przy drzwiach wejściowych, a w środku jest trochę ciuchów, które możesz dodać do swojej kolekcji. Jeśli nic nie przypadnie ci do gustu, możesz sprzedać wszystko w punkcie odbioru obok swojego mieszkania. Łatwa kasa!
Uderzaj w miasto
Prawdopodobnie kusi cię, aby od razu wyruszyć na ulice Night City i rozpocząć główne zadania, ale warto się chwilę wstrzymać. Oprócz dużych zleceń w grze jest naprawdę wiele do zrobienia, a wszystko wiąże się z jakimiś korzyściami.Otwórz widok mapy, a zobaczysz aktywne zbrodnie, które możesz pomóc udaremnić oraz zadania poboczne. Oba rodzaje aktywności zwiększą twoją reputację na ulicy, co z kolei odblokuje nowe zadania poboczne i da dostęp do lepszych broni oraz cybernetycznych ulepszeń – no i oczywiście otrzymasz też trochę cennych punktów doświadczenia.
W Cyberpunku 2077 nie trzeba grindować poziomów doświadczenia, ale odblokowanie kilku profitów przed wzięciem się za bary z poważnymi zleceniami, nie jest złym pomysłem
.Warto też przejechać się po mieście bez żadnego celu. Nie tylko po to, aby pozachwycać się widokami, ale również po to, by odblokować trochę więcej punktów szybkiej podróży. Przejechanie obok takiego punktu sprawi, że będzie on dostępny już do końca gry, dzięki czemu poruszanie się po rozległych dzielnicach Night City będzie o wiele prostsze – a jednocześnie bardzo przydatne, jeśli będziesz daleko od swojego kolejnego celu i nie będziesz mieć ochoty na długą podróż pojazdem.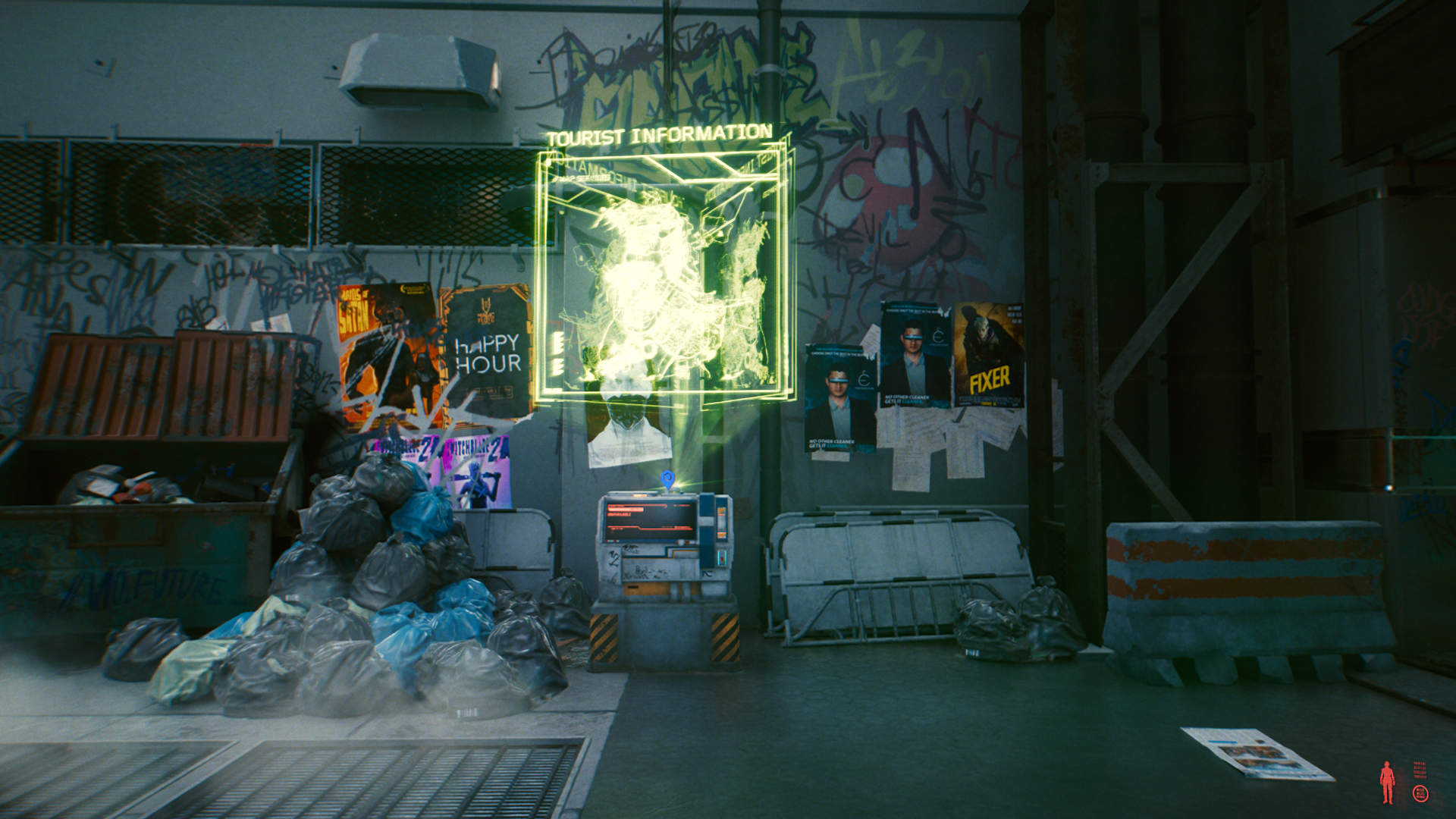 Dzięki tym kilku podstawowym poradom możesz już brać się za Cyberpunk 2077. A teraz idź zarobić trochę kasy i wyrobić sobie reputację na ulicy. Widzimy się na mieście.