Obecnie, w roku 2020, każdego roku wychodzi co najmniej jedna czy dwie godne uwagi, pierwszoosobowe strzelanki wojenne, jednak we wczesnych latach 2000 rynek był nimi przepełniony.
W tamtych czasach po raz pierwszy pojawiały się takie tytuły jak Call of Duty, a potem, w roku 2005, gracze pierwszy raz mogli cieszyć się taktyczną drużynową strzelanką
Brothers in Arms: Road to Hill 30
. Aby uczcić 15-te urodziny tej kultowej gry, postanowiliśmy przypomnieć wam wojenne strzelanki z początku XXI wieku i opisać, co spowodowało, że Brothers in Arms: Road to Hill 30 było na ich tle pozycją wyjątkową.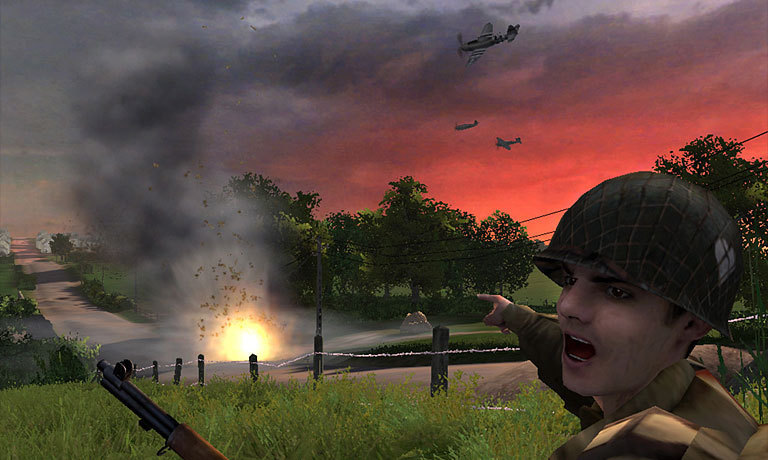 Obfitość gier o II wojnie światowej w połowie lat 2000
Pierwsze lata XXI wieku to czas ogromnej popularności pierwszoosobowych strzelanek. Fani science fiction lub gier pełnych szybkiej akcji uwielbiali takie tytuły jak Halo,
Soldier of Fortune
czy
Return to Castle Wolfenstein
, a z kolei osoby, które preferują wolniejsze tempo gry miały do wyboru mnóstwo realistycznych wojennych strzelanek. W połowie lat 2000 serie Call of Duty i Battlefield stawały się coraz bardziej popularne, a oprócz nich powstawało jeszcze mnóstwo innych strzelanek osadzonych w II wojnie światowej. Poza Brothers in Arms można wśród nich wymienić Call of Duty 2, Day of Defeat,
Medal of Honor: Allied Assault
,
Medal of Honor: Pacific Assault
i Red Orchestra – wszystkie to gry o II wojnie światowej wydane w odstępie czterech lat.Pomimo tej licznej konkurencji Brothers in Arms: Road to Hill 30 znalazł sposób na to, by wyróżnić się na rynku gier.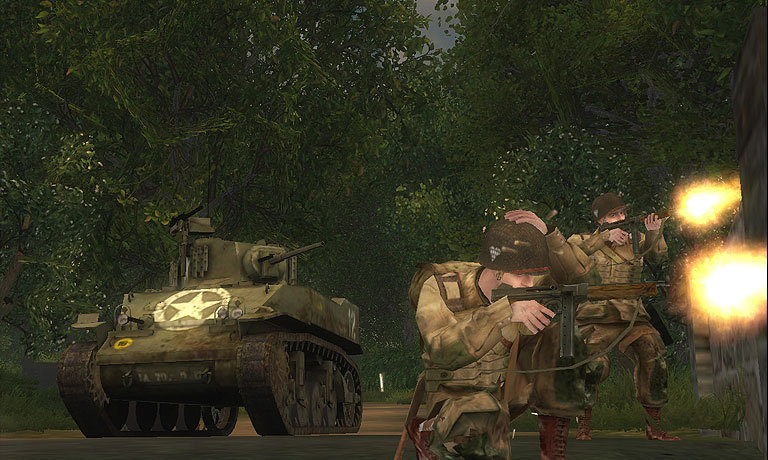 Brothers in Arms wyróżnia się dzięki innowacyjnej mechanice
Brothers in Arms zostało stworzone przez Gearbox Software (studia znanego najbardziej z serii Borderlands) i wprowadzało realistyczne aspekty militarne wraz z innowacyjną mechaniką dowodzenia drużyną. Stanowiły one o sile tego tytułu. Twórcy poszli nawet o krok dalej i zatrudnili emerytowanego pułkownika US Army, Johna Antala, do konsultacji związanych z niektórymi taktycznymi elementami w grze. Antal przeprowadził dla twórców nie tylko szkolenie teoretyczne, ale również praktyczne – w terenie. Nabyta przez nich wiedza i doświadczenie przełożyły się na ich dzieło.W przeciwieństwie do wielu strzelanek wojennych z tego okresu w Gearbox naprawdę postarali się o to, by obsługa broni wydawała się realistyczna. Bronie w grze nie strzelały idealnie – korzystały z celowników z okresu II wojny światowej, a odrzut sprawiał, że trafianie w cel nie było wcale takie proste. Te czynniki zwiększały poziom trudności, ale jednocześnie sprawiały, że pomyślne ukończenie misji było o wiele bardziej satysfakcjonujące.Oprócz realizmu Brothers in Arms korzystało z wyjątkowej mechaniki ostrzału drużynowego, który nadawał misjom dodatkową głębię i zwiększał różnorodność sposobów, w jaki można było je ukończyć. Ponieważ z broni strzelało się trochę trudniej, dowodzenie drużyną (zazwyczaj dwoma uprzednio wybranymi NPC-ami) było kluczowe dla osiągnięcia sukcesu w każdej misji. Wszystko działo się w czasie rzeczywistym i było niezbędne, żeby np. oflankować wroga i skutecznie się z nim rozprawić. Nawet dzisiaj funkcjonalności związane z dowodzeniem drużyną w Brothers in Arms pozostają żywe w naszej pamięci, mimo ogromnej liczby wojennych gier wydanych w latach 2000.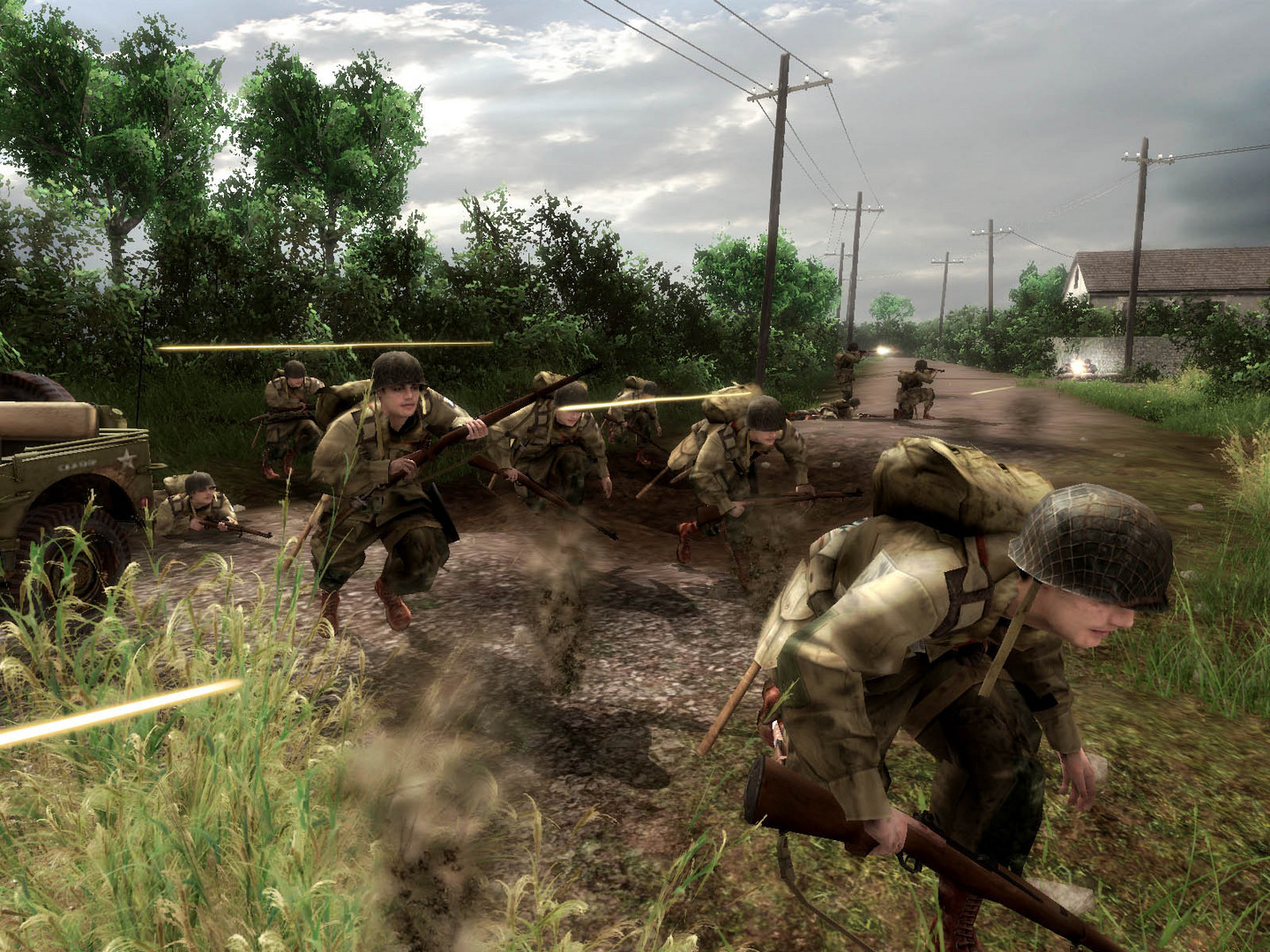 Realistyczne podejście do fabuły w Brothers in Arms
Oprócz realizmu w kwestii strzelania oraz mechaniki dowodzenia drużyną fabuła w
Brothers in Arms: Road to Hill 30
również wydawała się bardziej wiarygodna na tle innych, ówczesnych strzelanek wojennych. Historia przedstawiona w grze była inspirowana prawdziwymi wydarzeniami. Gracz wciela się w członka sławnej 101. Dywizji Powietrznodesantowej, która dokonała zrzutu spadochronowego za linie wojenne podczas lądowania w Normandii. Pierwszą misją jest odtworzenie bitwy "Bloody Gulch" w dworze Manoir de Donville, który nosił również nazwę Hill 30.W trakcie gry bierze się udział w różnych bitwach i potyczkach, które dzieją się równolegle do prawdziwych wydarzeń z tamtego okresu. Dzięki dbałości o szczegóły gracze naprawdę zanurzyli się w grze, która wyróżniła się pośród mnóstwa innych wojennych strzelanek. Jeden recenzent zauważył nawet, że choć wiele wojennych strzelanek z tamtego okresu miało podobny klimat do klasycznych, wojennych filmów z Holywood, to Brothers of Arms było bardziej realistyczne, prawdziwe i nowoczesne, jak choćby Szeregowiec Ryan czy Kompania Bracia, a "wiarygodne i emocjonalne pokazanie wojny" pomogło uczynić z rozgrywki wyjątkowe doświadczenie.Tytuł odniósł sukces i przetarł szlaki dla kolejnych
gier Brothers in Arms
wydanych na przestrzeni lat, co oznacza, że oprócz pierwszej części serii, do naszej dyspozycji jest jeszcze więcej rozrywki. Jeśli chcesz powspominać stare, dobre, wojenne strzelanki, a taktyka drużynowa wydaje się ciekawym dodatkiem do klasycznej formuły, jest to tytuł, który naprawdę warto sprawdzić!
Co o tym sądzicie? Graliście kiedyś w Brothers in Arms: Road to Hill 30? Planujecie to zrobić? Dajcie znać w komentarzach albo weźcie udział w dyskusji na którymś z naszych profili w mediach społecznościowych.