コンピュータゲーム好きの皆さん、おはようございます!
While we are still experiencing winter with all its ups and downs and not-always-super-positive vibes, we decided to try to change that a bit! Get ready for our Kawaii Sale – packed with amazing titles up to 90% off, full of cuteness and inspired by Asian culture.
When translated into English, the Japanese word "kawaii" means "lovely", "loveable", "cute", or "adorable". In fact, that term is used to describe the whole culture of cuteness present in Japan. It can refer to items, humans, non-humans or the thing that interests us the most – video games! That's why for the next week (until February 8th, 11 PM UTC) you will have the perfect occasion to try out games which will sweep you off your feet with their charm, sweetness and of course great gameplay.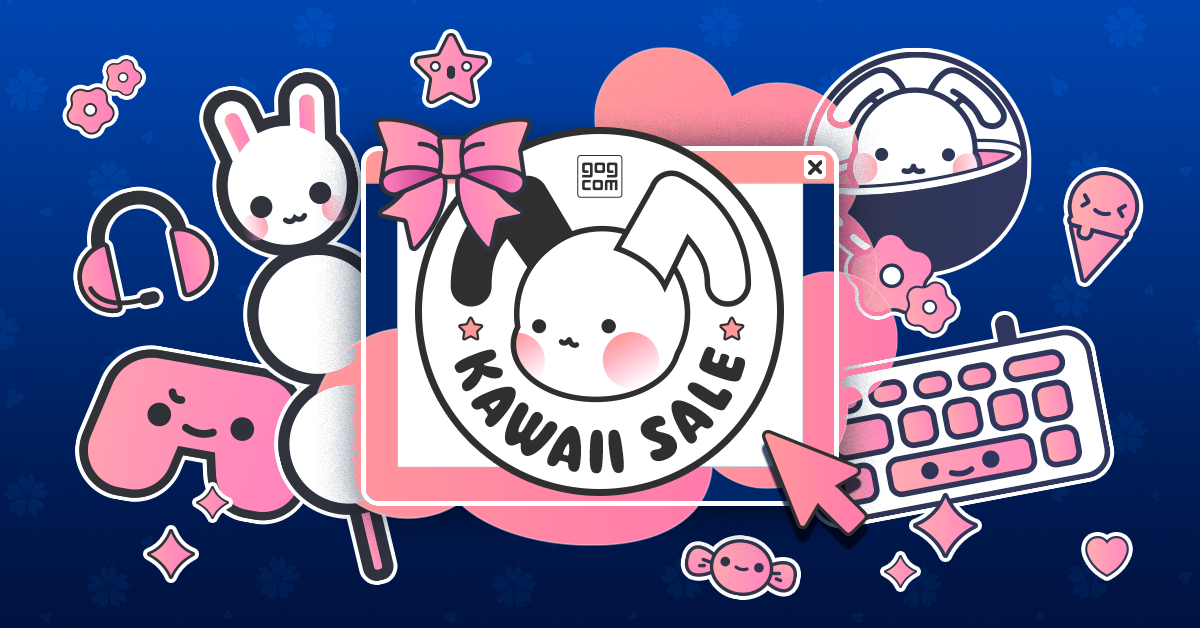 Let's begin and take a look at some of the examples!
The Legend of Heroes titles (up to -50%)
Amazing games of the largest, longest and most meticulously detailed turn-based JRPG series of all time. Whether you'll play
Trails in the Sky
,
Trails in the Sky SC
,
Trails in the Sky the 3rd
,
Trails of Cold Steel
or
Trails of Cold Steel II
, you can expect rich and complex narratives, well-developed characters, challenging combat systems, and diverse world-building. The games offer a blend of political intrigue, personal drama, and great adventure, set in vast and immersive worlds filled with memorable characters, each with their own unique stories to tell. Additionally, their deep and rewarding RPGs systems offer players a wealth of choices in character customization, upgrade paths, and strategic options in combat. All these features, combined with beautiful graphics and unforgettable soundtracks, make for an incredibly enjoyable and immersive gaming experience.
Chained Echoes (-15%)
A story-driven JRPG where a group of heroes travel around the vast continent of Valandis to bring an end to the war between its three kingdoms. With its release not so long ago, it already conquered the hearts of players and critics alike. Chained Echoes' unique world allows you to take up your sword, channel your magic or board your Mech, because in this 16-bit SNES style title dragons are as common as piloted mechanical suits. Beautiful pixel graphics, fast paced turn-based battles, complex skill and equipment system, customization of your own airship and tons of items to be looted, stolen or crafted are just a few of the amazing things it has to offer!
Haven (-50%)
Open-world, story rich adventure title which revolves around one question: does love really conquer all? Yu and Kay have escaped to a forgotten planet, leaving everything they knew behind. You'll play as those two lovers at the time when they settle into an unknown world. Explore the planet looking for parts and material to fix your ship and make it a cozy home. Enjoy moments of everyday life as a relatable couple while cooking meals, crafting and collecting precious resources to make it to the next day. Fight against those trying to tear you apart by synchronizing actions in combat, finding the perfect timing and rhythm, while controlling both characters and battling to keep them and their relationship alive. In this unexpected RPG adventure, exploration of the beautifully eerie and unstable planet while enjoying the thrilling soundtrack will make it an unforgettable experience.
CrossCode (-50%)
Retro-inspired 2D Action RPG combining 16-bit SNES-style graphics with butter-smooth physics, a fast-paced combat system, and engaging puzzle mechanics. All served with a gripping sci-fi story. Prepare for exploration of a large world with 7 unique areas and hidden secrets all over the place, fight over 120 enemy types including 30+ boss fights, 7 expansive dungeons, all with with unique themes and puzzle mechanics, ability to master up to 100 combat arts and passive skills, great variety of quests and unique challenges and gorgeous music tracks. But those games are just the tip of the
Kawaii's iceberg of great deals
. Make sure to check all of them out
HERE
and immerse yourself with their impeccable and enchanting aesthetics and variety of offered experiences. There's one thing certain – you will find a title that will become your next favorite!With
Kawaii Sale
we are also stacked on special streams that will take place on our
Twitch Channel
. Every one of them will feature a title available within the sale. It's a great occasion to check them out, but more importantly, we promise lots of fun, laughter and company of amazing, fellow game enthusiasts. Mark your calendars and we'll see you in the chat! Here's a schedule:
Jack Move
with THEcroxxx on Thursday, February 2nd, 5 PM UTC.
Monster Prom 2: Monster Camp
with Virtute, Glitchkraft and THEcroxxx on Friday, February 3rd, 6 PM UTC (multiplayer).
Bug Fables: The Everlasting Sapling
with AshSaidHi on Monday, February 6th, 7 PM UTC.
Cthulhu Saves Christmas
with FractalMindMike on Tuesday, February 7th, 7 AM UTC.
Chained Echoes
with ArvanEleron on Tuesday, February 7th, 7 PM UTC.
CrossCode
with Flaose on Wednesday, February 8th, 3 AM UTC.
When it comes to cuteness, there can't be too much of it! Enjoy Kawaii Sale to the fullest and remember: セールで一番かわいいのは君だ! ପ(๑•ᴗ•๑)ଓ ♡