There are many wonderful mysteries the world over. Yet for many of us, the true adventures are located outside of our little, blue marble and past the moon and beyond. That's why we've decided to show you some great games that will enable you to launch off into space in search of galactic civilizations and otherworldly adventures!
The longing for stars
Realistically speaking, we may never get the chance to personally explore all the deep corners of the universe. It's kinda disappointing, given the fact that PC computers we use today are much more advanced than those used in the first shuttles we have sent into space. Yet there are plenty of video games that can help quench that thirst for space travel that hides inside. Here, we wanted to go over a handful of such sci-fi titles.
Do you want to create a bustling colony on a distant planet or maybe you prefer taking part in deadly spaceship dogfights? Either way, you should definitely check our list.
No Man's Sky
No Man's Sky may have had a turbulent launch, Hello Games has stuck with the title. Under a constant stream of updates, this indie game became an even more brilliant open, procedurally-generated sandbox title. What makes it even more exciting, is that you can enjoy it alone or with friends.
Pilot awesome ships on a variety of quests, and find the perfect planet to build a base, or just planet-hop and bounty hunt, you can do it all in No Man's Sky. Also, if VR is your thing, the game also possesses such a feature and it will truly take your experience to the next level!
Stellaris
Is turn-based 4X grand strategy more your style? Love the Civilization series but looking to be not restricted by the confines of Earth?
In Stellaris, you create a new race and play against a variety of other civilizations as you manage your people and fight others for your place in the galaxy. Featuring both on-planet and fleet management and huge space battles, Stellaris will have you continuously saying "just one more turn."
If you're looking for even more 4X goodness, Stellaris has a whole galaxy of DLCs that will add hundreds of hours of gameplay to the base game.
Galactic Civilizations series
This space franchise has definitely stood the test of time. The first part of the Galactic Civilizations series has been released in 2003 and met with worldwide acclaim. The game combined strategic and economic features with a breathtaking sci-fi setting. The latter was all the more realistic because Stardock CEO Brad Wardell was one of the game's main creators.
The release of a sequel, titled Galactic Civilizations II: Dread Lords was, of course, just a matter of time. This time the vast space was presented to us in a form of neat 3D visuals. A dozen of unique civilizations and many ways to finish the game made Galactic Civilizations II another hit. The game also received two considerable expansions that bring all those would-be space explorers even more fun.
Finally, the year 2015 saw the premiere of Galactic Civilizations III. In terms of epic proportions and scale of strategic possibilities, this game puts many competitors to shame. Its story revolves around the rebuilding of the powerful Terran Alliance and conquering the vast Galaxy once more. Over the years Galactic Civilizations III received a lot of DLCs so if you plan to start tackling this game, get ready for long and exciting gameplay before you.
Freespace 2
Another genre-defining title is Freespace 2, a space combat game. It features a pretty great story and plenty of space missions for you to sink your teeth into. Destroy enemy ships, spy deep enemy lines, and more as you learn about the ongoing rebellion presented in the story.
Released in 1999, Freespace 2 managed to capture the feeling of flying through space. If you own a joystick or other type of flight stick, it's definitely the best way to experience this title.
The game also features multiplayer with various competitive and cooperative modes for tackling missions in the game. If modding is your style, there is also a robust, active modding community with Freespace 2.
Wing Commander series
If you're looking for something a little more classic, you can't go wrong with the Wing Commander series. Spanning multiple titles and spin-offs, the series has you piloting a variety of ships through space and story campaigns.
Whether it's exploring the world the series helped build or trying out multiplayer in Wing Commander: Armada, this classic has plenty to offer players. Starting with its third installment, the series even featured FMV cutscenes with actors like Mark Hamill and John Rhys-Davies.
The Wing Commander's unique story expands beyond video games. There are also books and an animated TV show based on this vast universe.
Dead Space
If you are looking to be scared but in space, then look no further than Dead Space. With some heavy influences from the System Shock series, Dead Space takes place on a starship full of monsters and you are the lone person left alive.
Unlike other scary games, shooting the baddies in the head is not always the answer! Dead Space uses a unique fighting system that means figuring out the monsters' weak points and exploiting them. Also unique to the series is the HUD – no big gauges and numbers everywhere. Dead Space used visual cues to display relevant information.
There are also plenty of weapons and puzzles to keep players interested. So, if you are looking to be a bit frightened, definitely check out this one.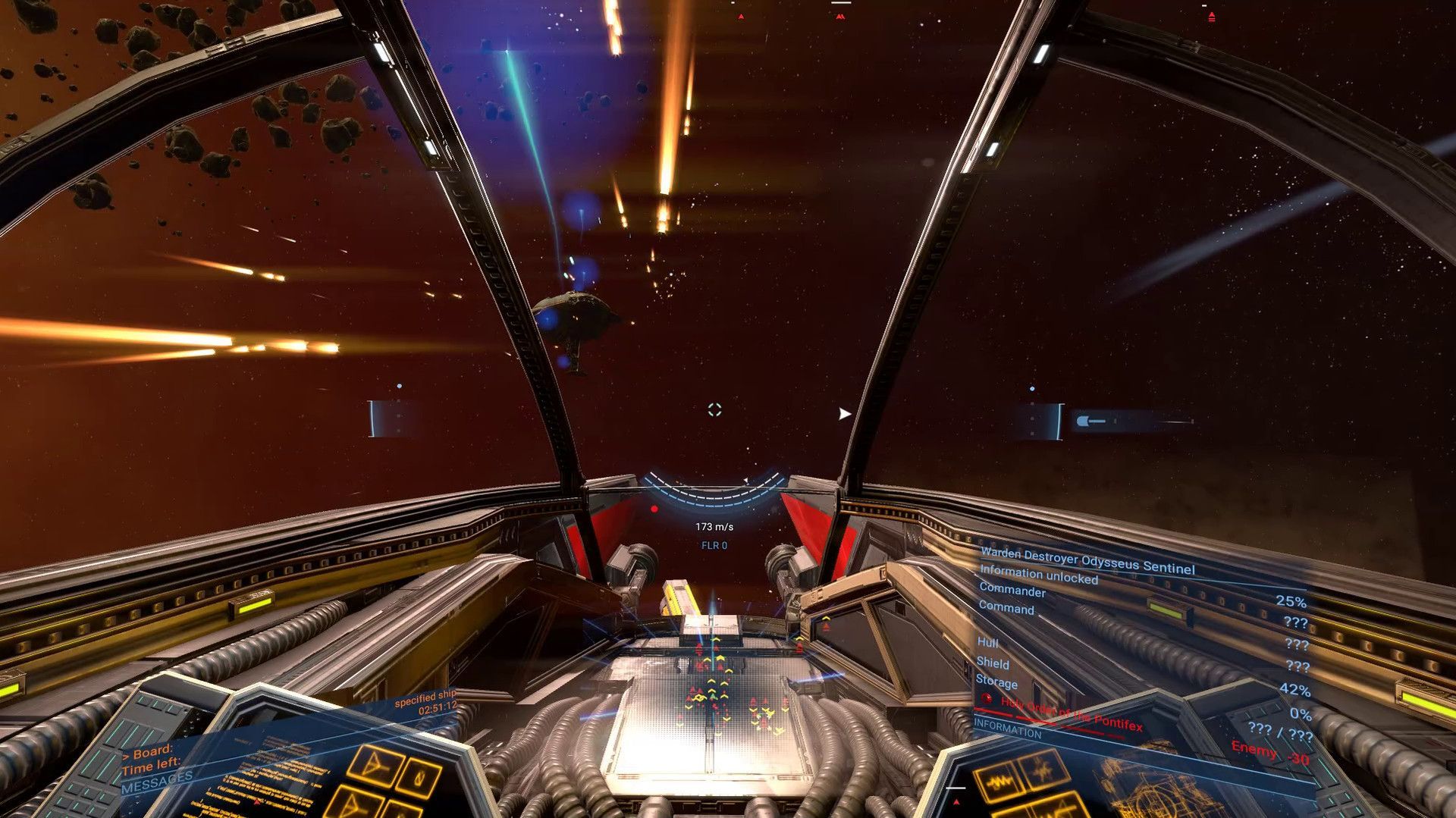 X series
X is another space combat title that spans multiple titles with X4: Foundations being the latest installment. It's worth checking out if you enjoy not only combat but trading mechanics, as well.
In the X series, people from Earth have made jumpgates that help them explore the universe. Using terraforming machines built with AI, the citizens of Earth start colonizing the far reaches of space. Then, disaster strikes as a flawed update cause the AI-powered machines to turn against the humans, and ultimately push them back to Sol System.
The first X title takes place some 700 years after that event and it is your job to stop them on their home turf, the X system. Here you'll meet other alien races and, as the game states, "Trade, Fight, Build, Think."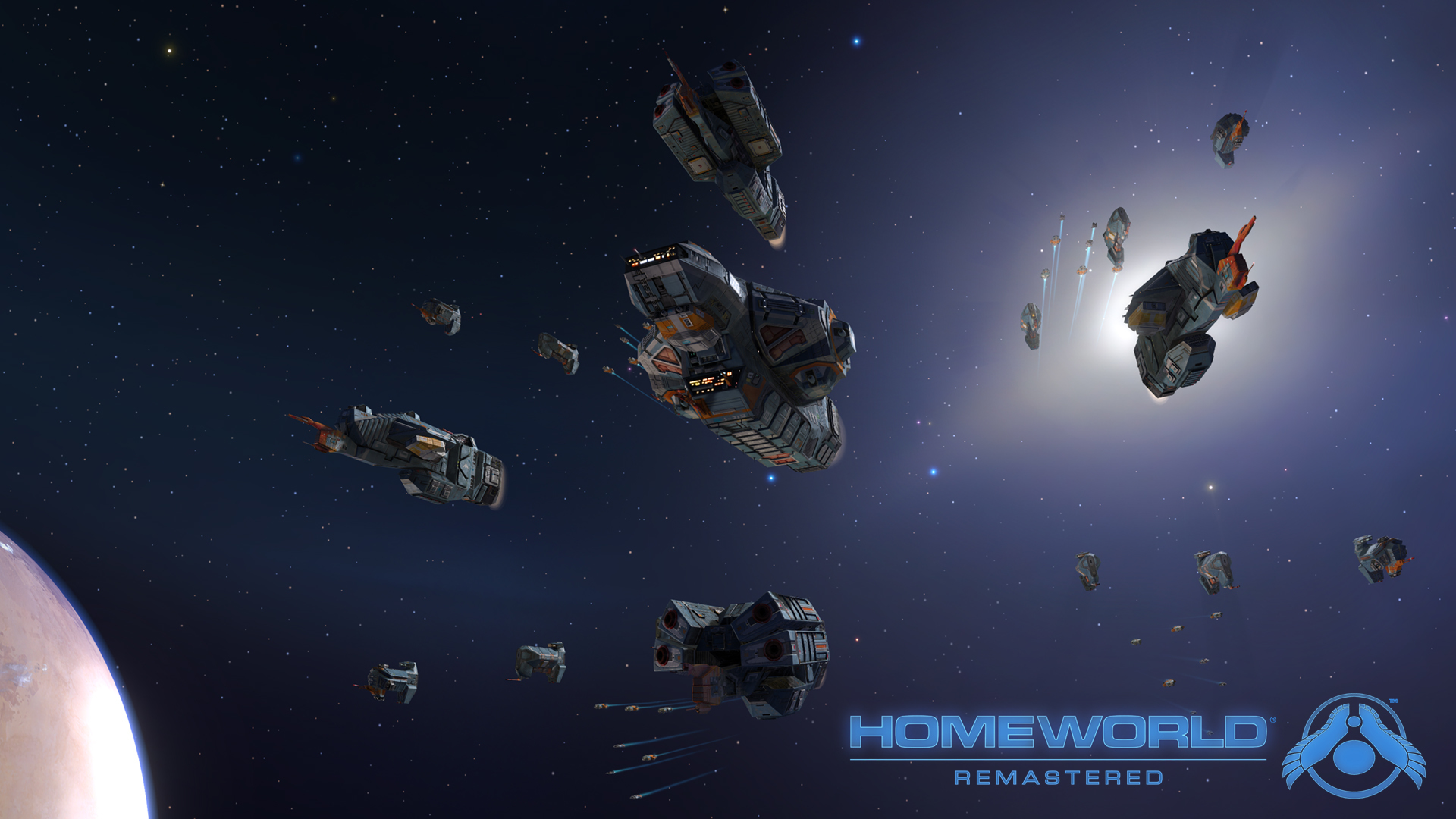 Homeworld
You can't have a list about space without including the classic that is Homeworld.
Homeworld was released way back in 1999 and brought with it a genre-defining real-time strategy game set in space. 3D playing areas, fleets that stayed with you from mission to mission, and a plot that is sure to keep you entertained, it's no wonder the game was nominated for various awards when it was released. It's even more beautiful now after it was re-released in the Homeworld Remastered Collection.
While Homeworld is scenario-based, it did allow for plenty of exploration after you tackled your main objectives. Stock up on supplies and units before heading to the next encounter!
By the way, ff you prefer a more traditional, ground-based RTS, Homeworld: Deserts of Kharak is your title to go to.
While we may be stuck on Earth, for the time being, that doesn't mean our games have to be! All of the above titles are available on GOG.COM and are all available DRM-free, meaning you can explore the galaxy when, and how, you want.
Do you like games set in the far future? You might want to read our articles about the BATTLETECH universe and cyberpunk games.